Hope Enterprise University College 9th batch graduation
Developing leadership for a world of Hope
Discover HEUC
HEUC Compound
Discover HEUC
HEUC Compound
Discover HEUC
HEUC Compound
Discover HEUC
HEUC Compound
Discover HEUC
Inside Library
Library Catalouge
Class Room Building
Explore HEUC
Lecture Room
Explore HEUC
Class Room
Explore HEUC
Multi Purpose Hall
Service
On the behalf of Hope Enterprise University College (HEUC), I would like to welcome you to this corner of the web. It is a pleasure to introduce you to the revised website of University College (www.heuc.edu.et). The revised website would enable our stakeholders (clients and others) to easily navigate our academic programs and other services. It conveys both the distinct elements of our various undertakings as well as our mission: to contributing towards nation building through focusing on teaching, research and community services so as to develop human capital and responsible leaders who are committed to the service of society, and serving as one income generating source for Hope Enterprises. The new site features include integrated online learning management system, simple online registration portal for registrar, access to HEUC library catalogue and digital library and link to all social media pages of HEUC.
I would also like to use this opportunity to express that I am so excited and proud to lead HEUC as the fourth President in row; the first and founding president being Dr Minas Hiruy. HEUC is placed on five hectares of a beautiful green and clean campus; well equipped with state of art facilities and conducive for learning and having student-friendly environment.
Currently, our University College offers three graduate programs namely Masters of Business Administration (MBA), MA in Organizational Leadership (MAOL) and MSc in Accounting and Finance. Moreover, it offers the following undergraduate programs: a) Faculty of Business (Accounting and Finance, Management, Marketing Management); b) Faculty of Informatics (Computer Science, Information and Information Technology) and c) School of Architecture (Architecture).
HEUC has developed and started to implement its new strategic plan since 2021. Some of the strategic initiatives we shall undertake in this strategic planning period is to expand and diversify our academic programs and to branch out to new campuses so as to widen access to higher education with the desired quality to our citizens. We are educating a limited number of students with special emphasis on quality of education. We are also doing aggressively towards fostering the culture of Research and Community Services. If you visit us, I am confident that you will be highly impressed with what you see here.
Accreditations
Business Administration
Modality - Regular
Study Level - Masters
Programs - Graduate
Download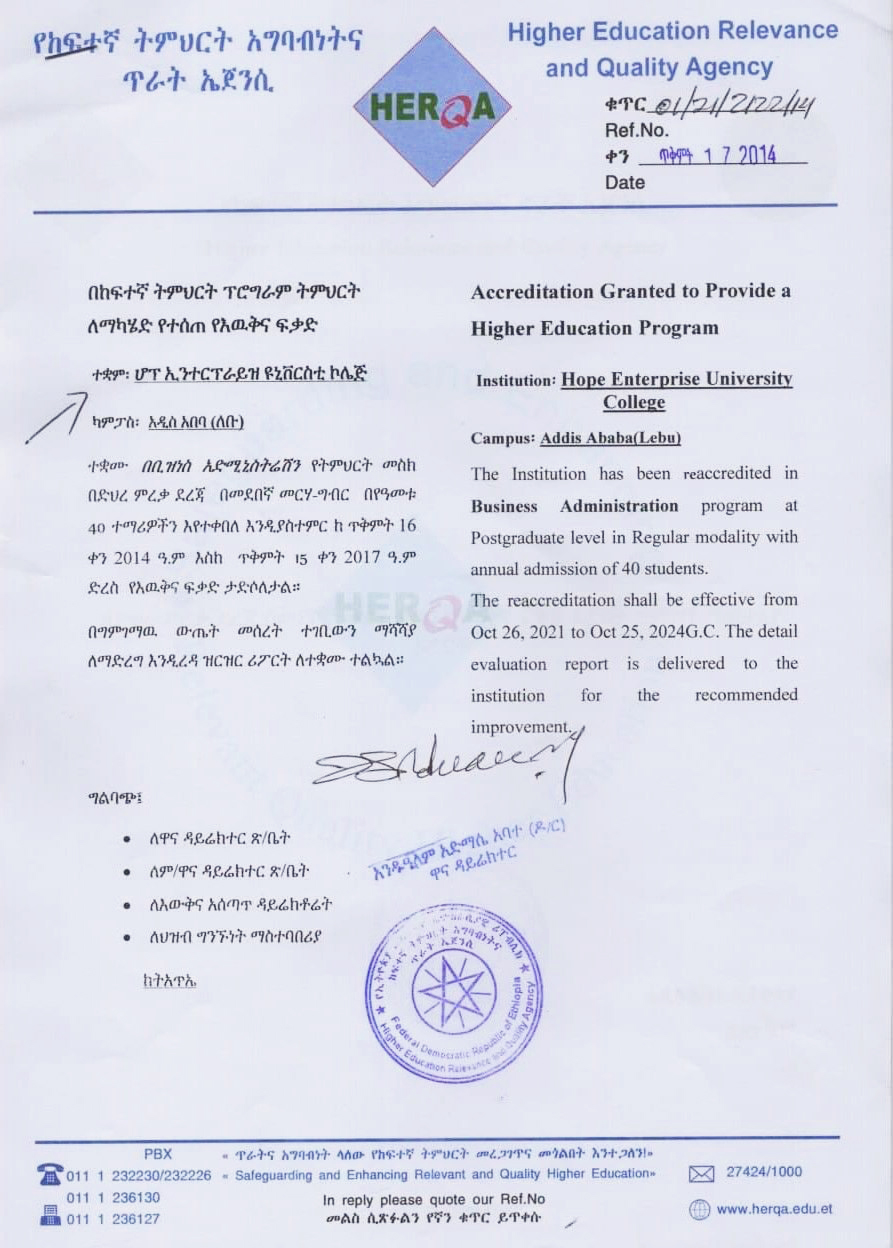 Vision
Developing Leadership For a World of Hope
The vision of the University College is To be among the top five preferred universities in Ethiopia by 2025 as a knowledge and value-based center of learning to positively impact leadership for speedy socio-economic transformation of Ethiopia.
Becoming value-based center
Transformation of Society
Undergraduate Programs
Our undergraduate programs.
Objectives
Research & Community Service
Enabling Environment for Learning
Linkage of the Graduates with the Job Market
Adding to cart
Added to cart